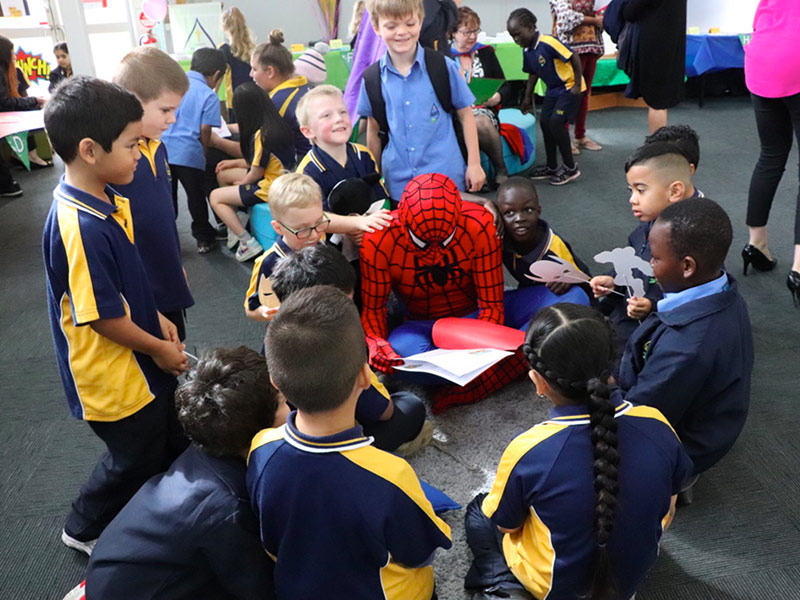 Spiderman was a special guest at St Joseph's Primary School Kingswood's annual Writers Festival
St Joseph's Primary School Kingswood capped off their Book Week celebrations with a Writers' Festival highlighting their great writing skills. The school's love of reading made them famous recently when a fun video of teachers singing I Like Big Books went viral on Facebook.
Principal Trish Reilly said this was the school's third Writers' Festival and continued with this year's Book Week theme Reading is my Super Power! "The Writers Festival gave the students a purpose with their writing and an opportunity to show off all their hard work to their families and fellow classmates," she said.
Student's stories were laid out on display for all to see with Kindergarten and Year 1 works beautifully decorated and stuck on the walls and windows for easy reading, while the more lengthy writing pieces were laid out on tables for visitors to pick up and read in a quiet spot at their leisure, by themselves or shared with others.
There was even a special guest on hand to encourage little readers to pick-up one of the small books and read it or have it read to them: Spiderman! One student was even heard describing the event as being "the Super Best Day ever".
Catholic Education Diocese of Parramatta Literacy Manager Kathy Ferrari said St Joseph's Primary is a true learning school, which means everything and everyone is focused on learning.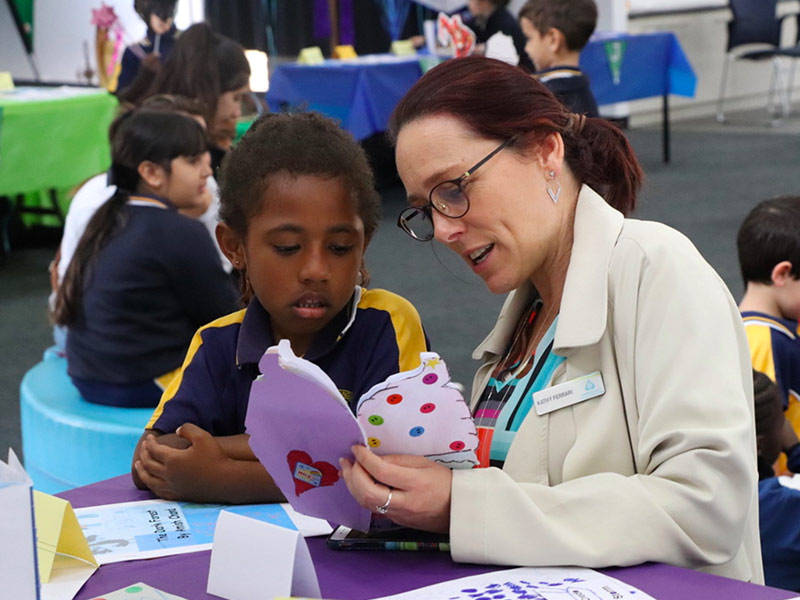 Catholic Education Diocese of Parramatta Literacy Manager Kathy Ferrari reading with Kindergarten student Shima Siki
"Students are learners, teachers are learners - it is a real community of learners. The school recognizes that when students have an audience for their writing, it inspires them to do their best," Ms Ferrari said.
Mum Victoria Thompson, with four-month-old son Laken by her side, sat with her daughter Eloise and friend Madeline from Kindergarten reading a story. "I love the Writers' Festival, as I think knowing how to read and write can open a lot of doors for you. It is a good foundation to have," she said.
Another parent, dad Rod Villeness, spent time to read with his son John Paul and thinks the Festival is a great encouragement for students to learn to express themselves through writing. "It really gives them the confidence to develop their reading and writing skills. I can see how he has progressed and it is very impressive!" he said.
St Joseph's K - 2 Instructional Leader Ali Busuttil said the team has done a fantastic job in helping build up the enthusiasm amongst the students and the community to make this day a success.
"The students got to choose what they wanted to write about as long as it was purposeful and meaningful for them. It was great to witness students finding their own stories and that of their siblings and friends, which they would read with great excitement," she said.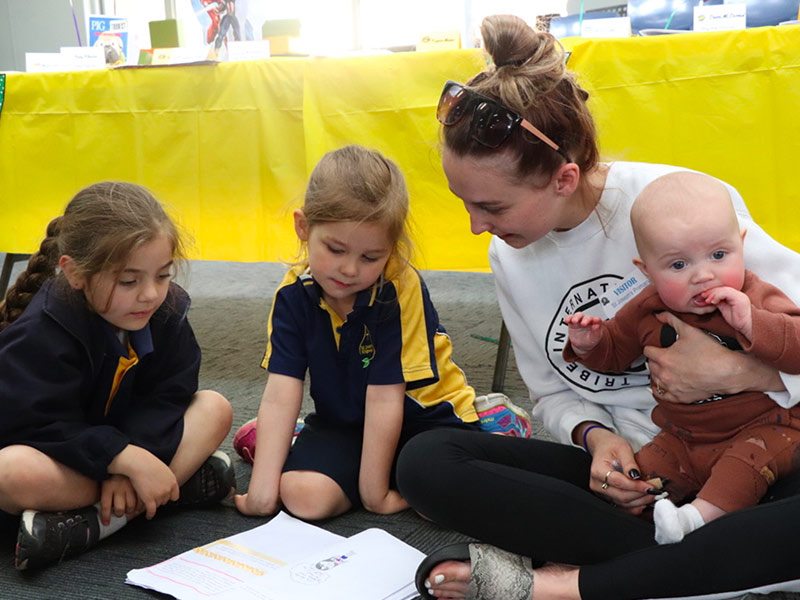 Victoria Thompson, with four-month-old son Laken by her side, sits with her daughter Eloise and friend Madeline from Kindergarten reading a story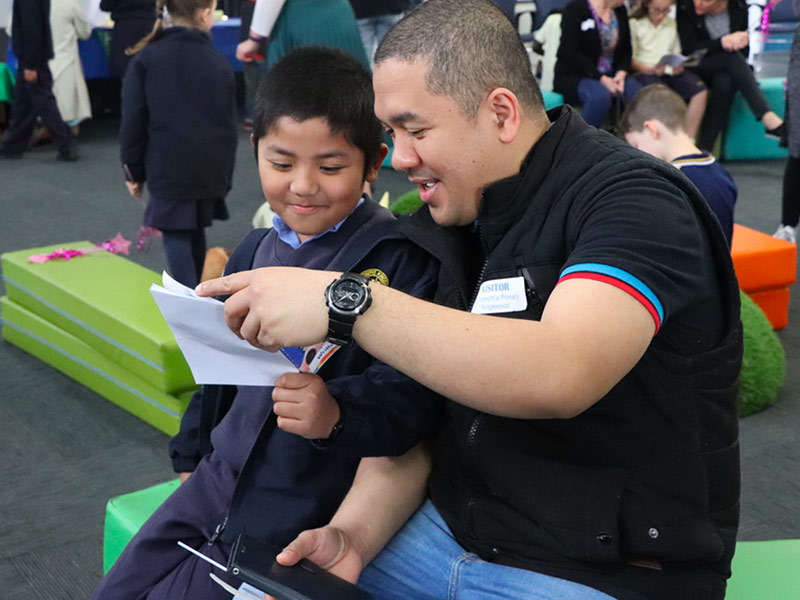 Rod Villeness read with his son John Paul and thinks the Festival is a great encouragement for students to learn to express themselves through writing
---
View more photos from this event